You Are Here Because You Are Interested




in Learning More About Epoxy Flooring




– Watch Our Video Now and Let Kerry Pharr Tell You

!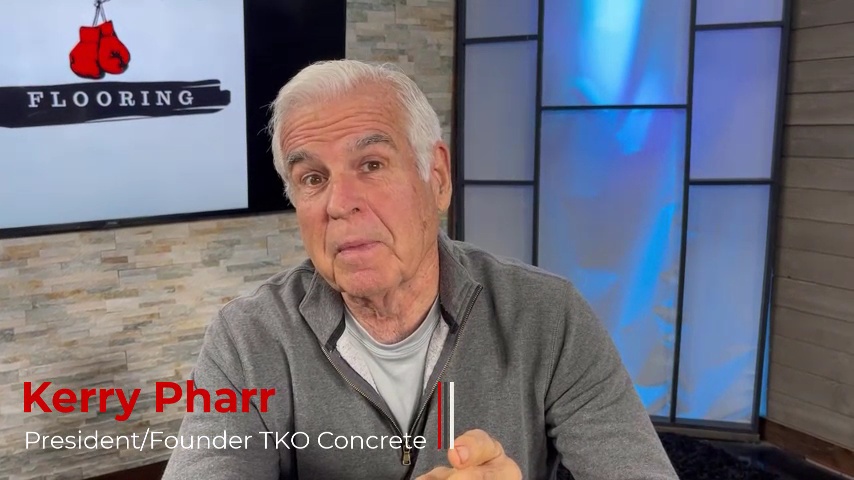 Hello friends my name is Kerry Pharr I'm the founder of TKO, concrete coatings, TKO concrete flooring. Now, obviously, you have a problem with your concrete or you wouldn't be searching for a video like this. Now yours might be that old, ugly, dull, gray, soiled, cracked, chipped, painted, unlevel concrete. I don't know, whatever the case is, but you don't have a floor that's so bad, that we can't fix it. We've done over 2 million square feet of flooring restoration in the years that we've been in business and we can help you with your problem. Evidently, you're thinking that epoxy is the answer to your flooring issue. Now, let me take just a moment or two to explain a little bit about epoxy to you. There are numerous different types of epoxy, you can put a clear epoxy down just like you can put a clear sealer down, you can also put a colored epoxy down in 40 or 50 different colors. In fact, we can do custom colors for you we put a floor down for a pharmaceutical firm recently that wanted a purple floor to match your logo and we gave them a beautiful purple floor. So, I mean, we can do almost anything that with with epoxy, when you put an epoxy down epoxy itself is not UV stable. So over time, what will happen is it will amber and turn you know green on you. So what we do is we come back and we put a coat of your clear urethane on top of any epoxy that we do that keeps the floor from turning amber or you know, fading on you. So if you have a problem and you want a solution, you've come to the right place, we can help you all you've got to do is call the number that you see below 6154143727, we'd be happy to come out and give you a free estimate right away and I guarantee you that you won't find anybody and the industry that'll take better care of you than TKO concrete flooring.
Commercial and Industrial Floor Coatings
Restaurant Kitchen Flooring
Food and Beverage Processing Floors
Brewery Floor Solutions
TKO Concrete Flooring specializes in chemical resistant flooring and our urethane mortar flooring system excels in extreme heat and cold, resisting both thermal shock and thermal cycling. Our epoxy and urethane flooring systems are textured to prevent slips and falls, they stand up to oxidizing agents, organic acids and clean in place chemicals. The floors can be pitched to drains to prevent standing water from forming puddles and compromising sanitary regulations.
Urethane Cement
Our seamless epoxy and urethane floors have no joints to trap dirt and bacteria, making it easier to keep plant, food and beverage, breweries, restaurants, kitchens, and warehouse floors clean.
TKO Concrete Flooring can meet all of your epoxy or urethane floor coating or floor restoration needs. In addition to coatings we can install cementitious urethane floors where ultra heavy duty performance flooring is needed.
Call us today for a free quote : 615-414-3727
I absolutely, 100% recommend using them! I had a fairly simple project for my basement, and their quoted price was the best I found by far. They did fantastic work and were responsive/helpful throughout the whole process 👍🏻👍🏻👍🏻
We had TKO Concrete Coatings/ Finishing out to to do a patio tear out and replace it with a bigger patio. Gary and his team did a wonderful job. I recommend this company. I will have them again. Thanks for the great job.
I have seen there work in several etablishments around Nashville and can tell they did the work by the quality. Confirmed by talking with the owner or manager of each place. Places like Maplehurst Bakery, Fat Bottom Brewery, Logan's Restauraunts, and The Turnip Truck.
Very professional and high-quality work at reasonable prices.
The work is absolutely fabulous! Top notch workers and honest establishment
Jeff Yarbrough
2021-12-30
Great people......courteous and affordable. I never knew concrete could look this good!!!
These Guys are the Absolute Best!
After calling multiple companies and being told it would be months before they could get to us and they wouldn't even come out to quote it, Gary with TKO responded almost immediately. We had a few thousand sqft of concrete to pollish and he came out the same day, worked out a price by the next day and a week later the job was done. The result was great and his crew was equally as great. I'll be calling them back to epoxy the garage when its ready. I couldn't have asked for a better result.
The owners of this company are great guys, very professional, they do excellent work! I highly suggest them for your every concrete need!